Fellow BU alum, Howard Stern is a fan of Boink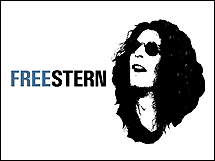 On September 28th, our edtor and co-founder, Alecia Oleourryk, appeared on The Howard Stern Show. If you missed her conversation with King of all Media, you can catch it here.
GETTING TO KNOW "BOINK"
Howard talked with Alecia Oleyourryk, a 21-year-old Boston University student who started "Boink," a porn magazine that features real college models. Howard told Alecia that he got a hold of the first two issues of "Boink," and that he liked what he saw. Howard said he had several questions for Alecia, so he asked her if the magazine pays the people who appear in it and what the overall feeling on campus was about the publication. Alecia responded that the models get $100 for each shoot, although most of them would do it for nothing if they had to. She went on to say that the heads of Boston University aren't happy with "Boink," but that there isn't anything they can do to her seeing as the magazine is perfectly legal.
DIFFERENT POINT OF VIEW
Although he thought the magazine was great, Howard admitted that he wouldn't want his kids going to college and taking off their clothes for "Boink." Robin agreed with Howard, adding that Alecia must understand where her opponents are coming from. Alecia explained that some parents have threatened to pull their children out of school because of their involvement with the magazine, so there is definitely some resistance. She mentioned, however, that since the participants are adults, they can make those kinds of decisions for themselves.
THE SKY'S THE LIMIT
Alecia reported to Howard that they broke even after the first issue of "Boink" came out and that the money they're making from the second copy is going right back into the magazine. Because "Boink" is sold only in the Boston area, Alecia noted that it is nearly impossible at this point to sell enough copies for major publishers like "Playboy" to take much notice. However, she added that things are going well, so with a little luck the magazine might be able to grow in the future.
ADVICE FROM GARY
Gary noted that what makes the girls in "Boink" so hot isn't that they're drop-dead gorgeous, but that they're real college girls who don't mind getting naked. Gary went on to say, though, that he wasn't too thrilled with all the gay content he saw in the magazine. Alecia responded by saying that "Boink" embraces all kinds of sex, so she doesn't discriminate against what gets published. Gary suggested that logic is fine, but that Alecia might want to give a heads up to male readers before they turn to a page of two guys doing it.
YOUNG ENTREPRENEURS
After hearing Alecia's story, Howard mentioned that he used to be like her when he was in elementary school, because he would draw pictures of naked girls and then sell them to his classmates for 2 cents each. Howard added that if he would've thought of getting girls to take off their clothes when he was at BU, he could've been the Hugh Hefner of the school.
In honor of our appearance on The Howard Stern Show, we have a special offer for all of Howard's listeners.
Subscribe today and get a FREE Boink Lesbian poster or...
Check out a trial copy for only $1.45 (a $6.50 savings off the cover price).